If it is suitable to use artificial turf on the roof?
As more and more homeowners invest time and money in roof gardens and terrace development, there is a growing demand for simulated lawns and high quality artificial turf. why? Then everyone may have questions: Is it appropriate to lay artificial grass on the roof?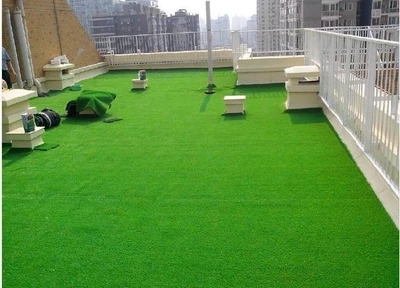 First of all, the vitaVITAartificial turf has the characteristics of good drainage, which can quickly and easily discharge rain even in heavy rain, so it is very suitable for roof gardens and terraces. This means that even if you live in a small apartment in a narrow mini garden balcony, the high degree of artificial grass can still make you feel as comfortable as stepping on a natural lawn.
Which artificial turf is suitable for roofs and terraces?
Since the weight of the lawn is often the primary consideration for laying artificial turf on the roof, theVITA artificial turf team usually recommends nonfilled grass. Some of the lawn heights we recommend for roofs and terraces include some medium to long grasses between 25mm and 30mm.
A wide range of artificial grass products are available on our vita Weita artificial turf website, with products for all budgets and projects. Anyone can afford the ability to improve their performance with artificial turf.
Quality assured drainage system
Since the roof is the most vulnerable part of the house to rain, all of our artificial turf has a design drain on the back that completely drains the water from the roof.
Unlike other cheapmanufactured artificial grass surfaces, when you purchase from VITA Artificial Turf Guangzhou, you purchase it from a Guangzhou artificial turf factory that has years of experience in the supply and installation of artificial turf. This means ensuring lawn quality, durability and more.
Low maintenance
Natural turf gardens require sufficient attention during the spring to ensure they can be used in the summer. Save your own maintenance time, and change it often and replace it with a gentle brush. This is the only ongoing concern of artificial grass.
Artificial grass has excellent drainage performance, low time requirements and the natural appearance of the soles and soft handfeel. It is your roof garden, balcony or terrace solution.
Change your home
The realistic artificial grass we offer can completely transform the current look of a balcony or terrace into a garden space, which is not only fun to use, but also an idyllic luxury symbol. So whether your roof is rainy or sunny, you can create a beautiful natural environment with artificial turf and enjoy it all year round.
VITAArtificial Turf Company, in addition to the sales of fake turf, we also provide free expert advice on the process of laying artificial grass, as well as professional installation services to cater to those who want professionals to complete the work at hand.
For further advice, answers to any questions, or simply asking about the most suitable lawn for a roof garden or terrace, please contact us immediately. Our VITAcustomer service team is always on hand to provide you with any advice and guidance you need.