Will the use of artificial turf be affected by the weather?
Artificial grass can cope with normal cold weather, and will not die due to temperature changes, and can remain in an evergreen state. Then someone will ask, if it is raining, will it damage the artificial lawn? In fact, the drainage performance of artificial turf is better than that of natural turf drainage because the bottom of artificial turf is designed with drainage holes. All rainy days will flow freely from the drainage holes. Even in cold weather, it does not affect the use of artificial turf.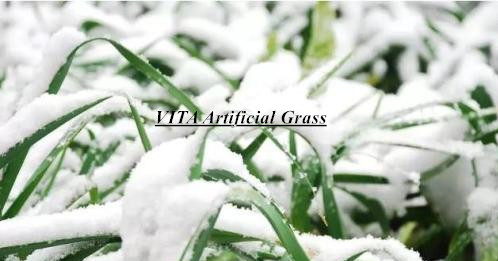 However, in the north of China, as well as some countries that often snow, the use of artificial lawns, when it comes to snow, we recommend that the snow attached to the lawn naturally melt, or if you need to move, please use the hand It is cleared. Although the artificial turf is made of hard materials, the removal of it with a hard shovel may cause some damage to the grass. We do not recommend using a shovel to remove the snow from the artificial turf.
In rare cases, we will encounter particularly cold weather and have dense snow or ice. The best way is to let the cold artificial grass melt naturally. If the ground freezes and the individual blades of grass freeze and freeze, it may be uncomfortable to walk. If you try to remove the ice, the grass may be damaged. Salt can be added to the area, but this is not recommended as it will affect the drainage of the lawn.
If you know that there will be heavy snow in the future, you can put down a tarpaulin (such as a tarpaulin) to protect the lawn, just in case. Generally, when the weather is very cold, the real lawn may not survive in such a bad weather environment, so the VITA artificial turf is very convincing for use in harsh environments.