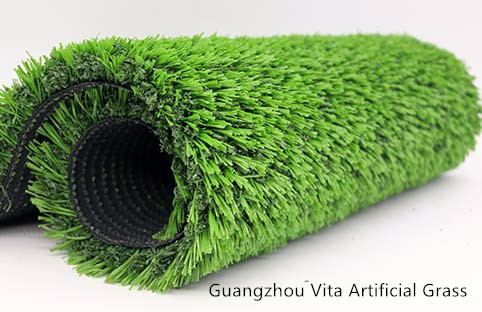 Guangzhou Vita Artificial Grass Industry Co., LTD passed the SGS test for environmental friendly raw materials, we have advanced production equipment with the core technology of artificial yarn's production, have FIFA 2 Star labor sport certification, so we can keep in standing in artificial grass industry even under the fierce competition. Artificial grass start from Europe country, its whole materials and functional of artificial grass is higher than our domestic market, but with rapidly development of our synthetic grass industry, and some domestic agent of foreign brand, so artificial grass industry in China already have a large scale, and industry chain is formed gradually.
With the rapid promotion and use of sport artificial grass, large of foreign artificial grass brand has entered into China market, so that with advanced production equipment and the technology support from foreign company, some national enterprise with large modern production factory area and sales for artificial grass are established. The excellent characteristic spur the rapid development of artificial grass in China , its popular in China is 10 years later than Europe, but users accept in very short time. Besides school, now most of professional sport center in China such as Beijing, Guangdong, Jiangsu are use artificial grass as main sport center field .
At present, synthetic grass are popular among some public area such as school, units, gym area and so on. Meanwhile, artificial grass can not only anti-skip, but dust-removing, easy to clean, and look like real grass, with the feeling of greening, now already become normal decoration for house, and it has been liked by people, therefore, the market of artificial turf is widely optimistic, this is also the reason why domestic artificial grass manufacturers are emergence. 
To the lower quality artificial grass use for supermarket, because of the shopping mall pay more attention to higher quality, its lower quality can not meet its demand. And good quality synthetic turf can compete with imported product, much higher than low artificial grass, and its price is much lower than imported artificial grass, easily accept by customers, that's "world quality, domestic price, it adapts to the regulations of things development, so it has huge develop space, at the same trend to the present market.
Guangzhou Vita Artificial Grass Industry Co., LTD provide a more optimized marketing policy and more complete pre-sale, sale, after-sale service with convenient transportation service for artificial grass market, meanwhile, we can provide professional installation team. Our Vita Artificial Grass always believe that only with good quality product and continuous improvement sport performance of artificial grass, can we make a brake through geographical and space, and standing in invincible position in the market competition
Hope these information will help you deeper understand artificial grass after your reading, and Vita artificial grass will keep posting artificial grass relevant text, welcomed to your continue following on Vita Artificial Grass. See you next time!